I'm super excited to announce that I'm completing my makeup certification in December 2012 and will be able to offer you makeup application as a preface to your photo session. I love the fact that I have repeat clients, wish I could hug all of them right now:)
If you've captured with me before you know that proper application of makeup, even if it's just shine reducing power makes a huge difference in the finished images.
I'm going to share a little secret here– if your makeup is not applied well or you are shiny and have blemishes clearly showing it is less likely you'll be pleased with your images. Not everyone wears makeup and that's okay, that's why we apply a translucent power to reduce shine and continue on to capture beautiful images.  The best course of action is to address any areas that will keep you from loving your images before the session. (continue below)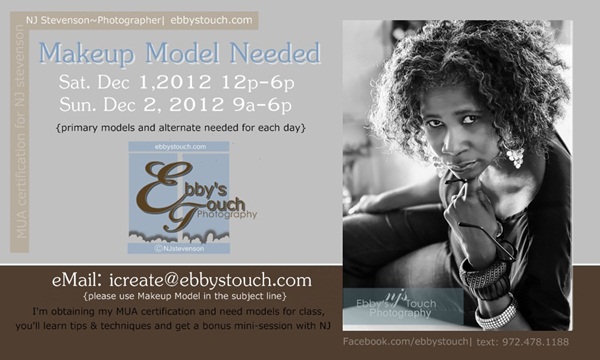 One of the reasons I decided to write this post is I've seen some misinformation floating around about makeup application incidental to your photo session, the State of Texas does not require a cosmetology license to apply makeup for a TV, film or a fashion photo session in an established studio.  Click on the link below to read all of the information. I'm posting this excerpt to help photographers  and clients, and I'm very pleased to take the time to study and fine tune my skills. I'm attending class and enhancing my skill set so I can better service my wonderful clients and I'm very excited!
Section 1602.003. Application of Chapter (click here to read it all)
(a) In this section, "fashion photography studio" means a permanent establishment that charges a fee exclusively for a photographic sitting.
(b) This chapter does not apply to a person who:
(7) provides an incidental cosmetic service, or owns, operates, or manages the location where that service is provided, if the primary purpose of the service is to enable or assist the recipient of the service to participate as the subject of:

(A) a photographic sitting at a fashion photography studio;

(B) a television appearance; or

(C) the filming of a motion picture.