I'm super excited to present this Giveaway! It's my birthday month and I know it's traditional to receive from others when it's your birthday but I like to give a little something too. What I'd like to get for my Birthday is 101 new fans and what I'd like to give is $50. I know it's crazy right!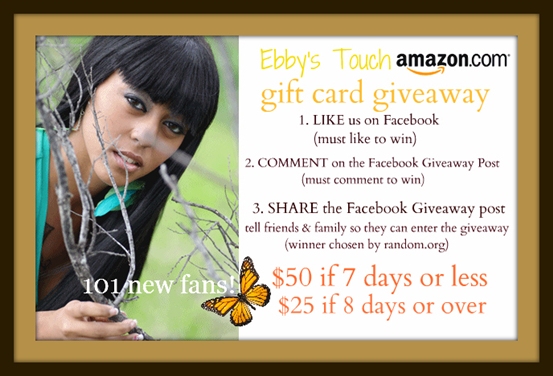 Entering the Giveaway is super easy:
1. Like the Ebby's Touch Fan Page at http://facebook.com/ebbystouch.
YOU MUST LIKE THE PAGE TO WIN
2. Comment on the Giveaway Post on the Fan Page
YOU MUST COMMENT ON THE GIVEAWAY POST TO WIN
3. Share the giveaway post so we can reach 101 fans within 7 days!
101 new fans in 7 days and the Giveaway drawing happens via Random.org!
Tell your family and friends so they have a chance to win also.
CLICK HERE to grab a Facebook Cover image that you can use to tell all your family and friends, anyone 18 or older can win. Just right click the image and download it .. update on Facebook.
OR click the COVER IMAGE below, then RIGHT CLICK to save it:

Here's the not-so-fine FINE PRINT:  
You can enter with your personal profile and your fan page to increase your chances of winning  but you MUST LIKE  the Ebby's Touch fan page and comment with each to be entered.
No LIKE, No COMMENT =NO win and NO exception.
Giftcard will be delivered by email for Amazon.com to a winner age 18 or older (chosen by Random.org ).
7th day ends August 15, 2012 at 10PM CST.
If it's over 7 days the giveaway is $25.00.  The winner will be chosen by http://random.org when we reach 101 new fans.